4pc Front Upper Control Arm & Lower Ball Joint for 2002-2004 2005 Ford Explorer
| | |
| --- | --- |
| Brand/Part #: | YINTATECH O15k16_xS1p |
| Location: | Monroe Township, New Jersey, US |
| Ship To Locations: | US - FREE SHIPPING |
Front Upper Control Arm & Lower Ball Joint For 2002-05 Ford Explorer Mountaineer
Fits:
- For Ford Explorer 2002 - 2005 4-Door Models ( Excludes Sport Trac Models )
- For Mercury Mountaineer 2002 - 2005 All Models ( Excludes Sport Trac Models )
Package includes:
- 1x Upper Left Control Arm and Ball Joint Assembly - K620225
- 1x Upper Right Control Arm and Ball Joint Assembly - K620224
- 2x Driver or Passenger Side Lower Ball Joints - K8695
Note:
- Please make sure that whether the control arm fits your vehicle or not before placing order.
- The product already contained grease and no additional addition is required.
- Any question, please e-mail us freely.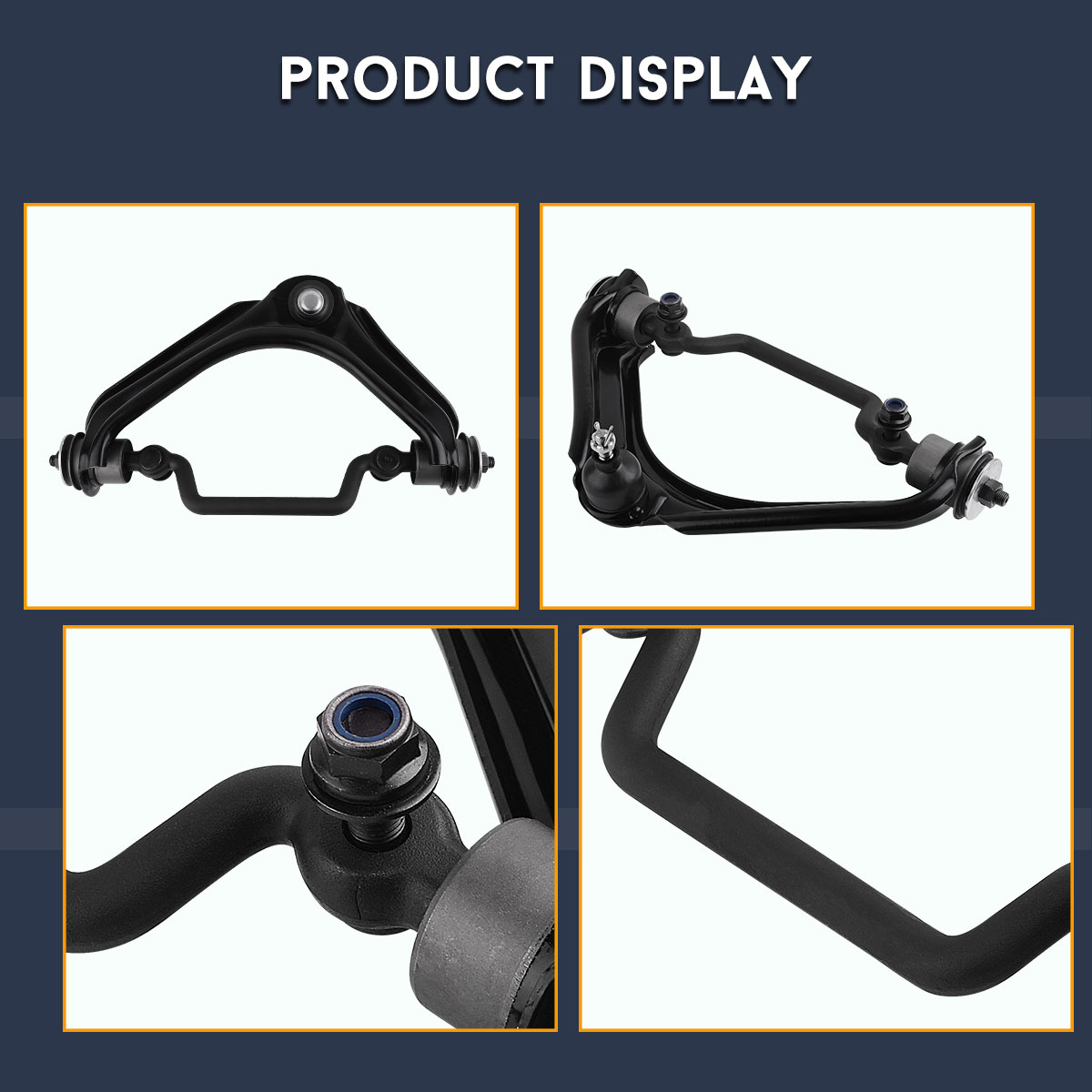 Returns Accepted: Returns Accepted
Item must be returned within: 30 Days
Refund will be given as: Money back or replacement (buyer's choice)
Return policy details:
Return shipping will be paid by: Seller
California Prop 65 Warning: This product can expose you to chemicals including Chromium (Hexavalent Compounds), which is known to the State of California to cause cancer, and birth defects or other reproductive harm.
Fitment Type: Direct Replacement
Warranty: 1 Year
Control Arm Construction: Stamped
Placement on Vehicle: Left
Interchange Part Number: K620224 K620225 K8695
Manufacturer Part Number: OPD000082
Brand: YINTATECH
Surface Finish: Polished, Rust Protected
Kit or Single Part: Kit
OE Spec or Performance/Custom: OE Spec
UPC: 608631690845
SKU: O15k16_xS1p
4pc Front Upper Control Arm & Lower Ball Joint for 2002-2004 2005 Ford Explorer fits on the following vehicles. This is for your reference only, please check your auto manual to make sure it fits.
YEAR
MAKE
MODEL
TRIM
NOTES
2005
Ford
Explorer
Eddie Bauer Sport Utility 4-Door 4.0L 245Cu. In. V6 FLEX SOHC Naturally Aspirated
2005
Ford
Explorer
Eddie Bauer Sport Utility 4-Door 4.0L 245Cu. In. V6 GAS SOHC Naturally Aspirated
2005
Ford
Explorer
Eddie Bauer Sport Utility 4-Door 4.6L 281Cu. In. V8 GAS SOHC Naturally Aspirated
2005
Ford
Explorer
Limited Sport Utility 4-Door 4.0L 245Cu. In. V6 FLEX SOHC Naturally Aspirated
2005
Ford
Explorer
Limited Sport Utility 4-Door 4.0L 245Cu. In. V6 GAS SOHC Naturally Aspirated
2005
Ford
Explorer
Limited Sport Utility 4-Door 4.6L 281Cu. In. V8 GAS SOHC Naturally Aspirated
2005
Ford
Explorer
XLS Sport Sport Utility 4-Door 4.0L 245Cu. In. V6 FLEX SOHC Naturally Aspirated
2005
Ford
Explorer
XLS Sport Sport Utility 4-Door 4.0L 245Cu. In. V6 GAS SOHC Naturally Aspirated
2005
Ford
Explorer
XLS Sport Utility 4-Door 4.0L 245Cu. In. V6 FLEX SOHC Naturally Aspirated
2005
Ford
Explorer
XLS Sport Utility 4-Door 4.0L 245Cu. In. V6 GAS SOHC Naturally Aspirated
2005
Ford
Explorer
XLT Sport Sport Utility 4-Door 4.0L 245Cu. In. V6 FLEX SOHC Naturally Aspirated
2005
Ford
Explorer
XLT Sport Sport Utility 4-Door 4.0L 245Cu. In. V6 GAS SOHC Naturally Aspirated
2005
Ford
Explorer
XLT Sport Sport Utility 4-Door 4.6L 281Cu. In. V8 GAS SOHC Naturally Aspirated
2005
Ford
Explorer
XLT Sport Utility 4-Door 4.0L 245Cu. In. V6 FLEX SOHC Naturally Aspirated
2005
Ford
Explorer
XLT Sport Utility 4-Door 4.0L 245Cu. In. V6 GAS SOHC Naturally Aspirated
2005
Ford
Explorer
XLT Sport Utility 4-Door 4.6L 281Cu. In. V8 GAS SOHC Naturally Aspirated
2005
Mercury
Mountaineer
Luxury Sport Utility 4-Door 4.0L 245Cu. In. V6 FLEX SOHC Naturally Aspirated
2005
Mercury
Mountaineer
Luxury Sport Utility 4-Door 4.0L 245Cu. In. V6 GAS SOHC Naturally Aspirated
2005
Mercury
Mountaineer
Luxury Sport Utility 4-Door 4.6L 281Cu. In. V8 GAS SOHC Naturally Aspirated
2005
Mercury
Mountaineer
Premier Sport Utility 4-Door 4.0L 245Cu. In. V6 FLEX SOHC Naturally Aspirated
2005
Mercury
Mountaineer
Premier Sport Utility 4-Door 4.0L 245Cu. In. V6 GAS SOHC Naturally Aspirated
2005
Mercury
Mountaineer
Premier Sport Utility 4-Door 4.6L 281Cu. In. V8 GAS SOHC Naturally Aspirated
2004
Ford
Explorer
Eddie Bauer Sport Utility 4-Door 4.0L 245Cu. In. V6 FLEX SOHC Naturally Aspirated
2004
Ford
Explorer
Eddie Bauer Sport Utility 4-Door 4.0L 245Cu. In. V6 GAS SOHC Naturally Aspirated
2004
Ford
Explorer
Eddie Bauer Sport Utility 4-Door 4.6L 281Cu. In. V8 GAS SOHC Naturally Aspirated
2004
Ford
Explorer
Limited Sport Utility 4-Door 4.0L 245Cu. In. V6 FLEX SOHC Naturally Aspirated
2004
Ford
Explorer
Limited Sport Utility 4-Door 4.0L 245Cu. In. V6 GAS SOHC Naturally Aspirated
2004
Ford
Explorer
Limited Sport Utility 4-Door 4.6L 281Cu. In. V8 GAS SOHC Naturally Aspirated
2004
Ford
Explorer
NBX Sport Utility 4-Door 4.0L 245Cu. In. V6 FLEX SOHC Naturally Aspirated
2004
Ford
Explorer
NBX Sport Utility 4-Door 4.0L 245Cu. In. V6 GAS SOHC Naturally Aspirated
2004
Ford
Explorer
NBX Sport Utility 4-Door 4.6L 281Cu. In. V8 GAS SOHC Naturally Aspirated
2004
Ford
Explorer
XLS Sport Sport Utility 4-Door 4.0L 245Cu. In. V6 FLEX SOHC Naturally Aspirated
2004
Ford
Explorer
XLS Sport Sport Utility 4-Door 4.0L 245Cu. In. V6 GAS SOHC Naturally Aspirated
2004
Ford
Explorer
XLS Sport Utility 4-Door 4.0L 245Cu. In. V6 FLEX SOHC Naturally Aspirated
2004
Ford
Explorer
XLS Sport Utility 4-Door 4.0L 245Cu. In. V6 GAS SOHC Naturally Aspirated
2004
Ford
Explorer
XLT Sport Sport Utility 4-Door 4.0L 245Cu. In. V6 FLEX SOHC Naturally Aspirated
2004
Ford
Explorer
XLT Sport Sport Utility 4-Door 4.0L 245Cu. In. V6 GAS SOHC Naturally Aspirated
2004
Ford
Explorer
XLT Sport Sport Utility 4-Door 4.6L 281Cu. In. V8 GAS SOHC Naturally Aspirated
2004
Ford
Explorer
XLT Sport Utility 4-Door 4.0L 245Cu. In. V6 FLEX SOHC Naturally Aspirated
2004
Ford
Explorer
XLT Sport Utility 4-Door 4.0L 245Cu. In. V6 GAS SOHC Naturally Aspirated
2004
Ford
Explorer
XLT Sport Utility 4-Door 4.6L 281Cu. In. V8 GAS SOHC Naturally Aspirated
2004
Mercury
Mountaineer
Base Sport Utility 4-Door 4.0L 245Cu. In. V6 FLEX SOHC Naturally Aspirated
2004
Mercury
Mountaineer
Base Sport Utility 4-Door 4.0L 245Cu. In. V6 GAS SOHC Naturally Aspirated
2004
Mercury
Mountaineer
Base Sport Utility 4-Door 4.6L 281Cu. In. V8 GAS SOHC Naturally Aspirated
2004
Mercury
Mountaineer
Premier Sport Utility 4-Door 4.0L 245Cu. In. V6 GAS SOHC Naturally Aspirated
2004
Mercury
Mountaineer
Premier Sport Utility 4-Door 4.6L 281Cu. In. V8 GAS SOHC Naturally Aspirated
2003
Ford
Explorer
Eddie Bauer Sport Utility 4-Door 4.0L 245Cu. In. V6 FLEX SOHC Naturally Aspirated
2003
Ford
Explorer
Eddie Bauer Sport Utility 4-Door 4.0L 245Cu. In. V6 GAS SOHC Naturally Aspirated
2003
Ford
Explorer
Eddie Bauer Sport Utility 4-Door 4.6L 281Cu. In. V8 GAS SOHC Naturally Aspirated
2003
Ford
Explorer
Limited Sport Utility 4-Door 4.0L 245Cu. In. V6 FLEX SOHC Naturally Aspirated
2003
Ford
Explorer
Limited Sport Utility 4-Door 4.0L 245Cu. In. V6 GAS SOHC Naturally Aspirated
2003
Ford
Explorer
Limited Sport Utility 4-Door 4.6L 281Cu. In. V8 GAS SOHC Naturally Aspirated
2003
Ford
Explorer
XLS Sport Utility 4-Door 4.0L 245Cu. In. V6 FLEX SOHC Naturally Aspirated
2003
Ford
Explorer
XLS Sport Utility 4-Door 4.0L 245Cu. In. V6 GAS SOHC Naturally Aspirated
2003
Ford
Explorer
XLT Sport Utility 4-Door 4.0L 245Cu. In. V6 FLEX SOHC Naturally Aspirated
2003
Ford
Explorer
XLT Sport Utility 4-Door 4.0L 245Cu. In. V6 GAS SOHC Naturally Aspirated
2003
Ford
Explorer
XLT Sport Utility 4-Door 4.6L 281Cu. In. V8 GAS SOHC Naturally Aspirated
2003
Mercury
Mountaineer
Base Sport Utility 4-Door 4.0L 245Cu. In. V6 FLEX SOHC Naturally Aspirated
2003
Mercury
Mountaineer
Base Sport Utility 4-Door 4.6L 281Cu. In. V8 GAS SOHC Naturally Aspirated
2002
Ford
Explorer
Eddie Bauer Sport Utility 4-Door 4.0L 245Cu. In. V6 FLEX SOHC Naturally Aspirated
2002
Ford
Explorer
Eddie Bauer Sport Utility 4-Door 4.0L 245Cu. In. V6 GAS SOHC Naturally Aspirated
2002
Ford
Explorer
Eddie Bauer Sport Utility 4-Door 4.6L 281Cu. In. V8 GAS SOHC Naturally Aspirated
2002
Ford
Explorer
Limited Sport Utility 4-Door 4.0L 245Cu. In. V6 FLEX SOHC Naturally Aspirated
2002
Ford
Explorer
Limited Sport Utility 4-Door 4.0L 245Cu. In. V6 GAS SOHC Naturally Aspirated
2002
Ford
Explorer
Limited Sport Utility 4-Door 4.6L 281Cu. In. V8 GAS SOHC Naturally Aspirated
2002
Ford
Explorer
XLS Sport Utility 4-Door 4.0L 245Cu. In. V6 FLEX SOHC Naturally Aspirated
2002
Ford
Explorer
XLS Sport Utility 4-Door 4.0L 245Cu. In. V6 GAS SOHC Naturally Aspirated
2002
Ford
Explorer
XLT Sport Utility 4-Door 4.0L 245Cu. In. V6 FLEX SOHC Naturally Aspirated
2002
Ford
Explorer
XLT Sport Utility 4-Door 4.0L 245Cu. In. V6 GAS SOHC Naturally Aspirated
2002
Ford
Explorer
XLT Sport Utility 4-Door 4.6L 281Cu. In. V8 GAS SOHC Naturally Aspirated
2002
Mercury
Mountaineer
Base Sport Utility 4-Door 4.0L 245Cu. In. V6 FLEX SOHC Naturally Aspirated
2002
Mercury
Mountaineer
Base Sport Utility 4-Door 4.0L 245Cu. In. V6 GAS SOHC Naturally Aspirated
2002
Mercury
Mountaineer
Base Sport Utility 4-Door 4.6L 281Cu. In. V8 GAS SOHC Naturally Aspirated