Suspension Control Arm and Ball Joint Assembly Front For Lincoln MKZ 2007-2009
| | |
| --- | --- |
| Brand/Part #: | DLZ 167714 |
| Location: | Southaven, Mississippi, US |
| Ship To Locations: | US - FREE SHIPPING |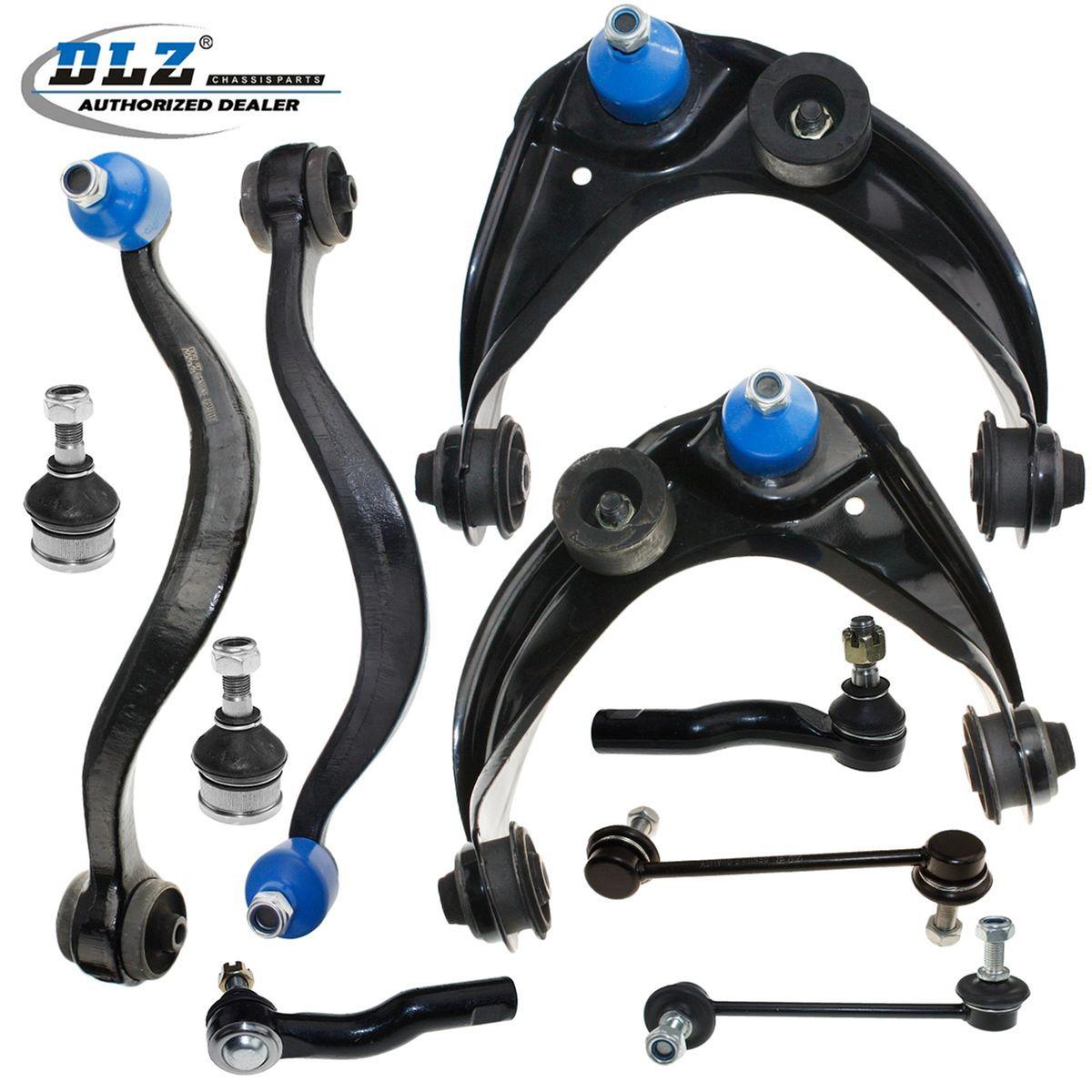 The Kit fit for following vehicle:
2006-2009 Ford Fusion
2007-2009 Lincoln MKZ
2006 Lincoln Zephyr
2006-2009 Mercury Milan
Package Includes:
1 x Part# RK620492 Front Left Lower Rearward Control Arm and Ball Joint Assembly
1 x Part# RK620493 Front Right Lower Rearward Control Arm and Ball Joint Assembly
1 x Part# RK620636 Front Left Upper Control Arm and Ball Joint Assembly
1 x Part# RK620635 Front Right Upper Control Arm and Ball Joint Assembly
1 x Part# ES800102 Left Outer Tie Rod End
1 x Part# ES800101 Right Outer Tie Rod End
2 x Part# K500013 Front Upper Ball Joints
1 x Part# K80251 Front Left Stabilizer Bar Link
1 x Part# K80250 Front Right Stabilizer Bar Link
1 Year Warranty
Please check above compatibility list to make sure it fits your vehicle.
Note before ordering:
Please check the compatability chart before buying as follow guides shows.
If possible please try to use laptop to check the compatibility chart, the detail information will be showed in compatibility chart due to mobile phone or tablet PC can not show the detail note about vehicles. Thank you!

If you have any questions within the 1 year warranty, please feel free to contact us to fix it for you.

We will be shipping out the item within 1 business day. If you make an order and pay before 1 pm PST on business day, we will most likely ship out the item the same day!
Other faster shipping option is available on request with additional cost. Email us for pricing to your zip code/country.
We ship to PayPal confirmed address only. Please make sure your PayPal address is up-to-date.

We accept return in 30 days and appreciate any contacting prior than return!
Replacements or money back should be concluded before return.
Returns Accepted: Returns Accepted
Item must be returned within: 30 Days
Refund will be given as: Money back or replacement (buyer's choice)
Return policy details:
Return shipping will be paid by: Buyer
Interchange Part Number: K620635 K620493 K620492 K500013
Cross Reference Part Number: ES800101 K80251 ES800102 GK2A34250C
Other Part Number: K80250 K620636 7E5Z3079L BE5Z3079A
Brand: DLZ
Surface Finish: Polished & Rust-Proof
Package Include 1: Front Upper + Lower Rearward Control Arm Tie Rods
Package Include 2: Upper Ball Joints Front Stabilizer Sway Bar Link
Fitment 1: For 2006-2009 Ford Fusion
Fitment 2: For 2007-2009 Lincoln MKZ
Warranty: 1 Year
Manufacturer Part Number: 4596291216HG8X7J
Placement on Vehicle: Front
Quantity Needed Per Vehicle: 10 Pcs
Make/Model: For 2006-2009 Mercury Milan
Fitment Type: Direct Replacement
Included Hardware: Bushing
Greasable or Sealed: Sealed
Bundle Listing: Yes
Suspension Grade: Standard
Control Arm Type: Stamped
UPC: 192840349767
SKU: 167714
Suspension Control Arm and Ball Joint Assembly Front For Lincoln MKZ 2007-2009 fits on the following vehicles. This is for your reference only, please check your auto manual to make sure it fits.
YEAR
MAKE
MODEL
TRIM
NOTES
2009
Ford
Fusion
S Sedan 4-Door 2.3L 140Cu. In. l4 GAS DOHC Naturally Aspirated
2009
Ford
Fusion
SE Sedan 4-Door 2.3L 140Cu. In. l4 GAS DOHC Naturally Aspirated
2009
Ford
Fusion
SE Sedan 4-Door 3.0L 2968CC 181Cu. In. V6 GAS DOHC Naturally Aspirated
2009
Ford
Fusion
SEL Sedan 4-Door 2.3L 140Cu. In. l4 GAS DOHC Naturally Aspirated
2009
Ford
Fusion
SEL Sedan 4-Door 3.0L 2968CC 181Cu. In. V6 GAS DOHC Naturally Aspirated
2009
Lincoln
MKZ
Base Sedan 4-Door 3.5L 3496CC 213Cu. In. V6 GAS DOHC Naturally Aspirated
2009
Mercury
Milan
Base Sedan 4-Door 2.3L 140Cu. In. l4 GAS DOHC Naturally Aspirated
2009
Mercury
Milan
Base Sedan 4-Door 3.0L 2968CC 181Cu. In. V6 GAS DOHC Naturally Aspirated
2009
Mercury
Milan
Premier Sedan 4-Door 2.3L 140Cu. In. l4 GAS DOHC Naturally Aspirated
2009
Mercury
Milan
Premier Sedan 4-Door 3.0L 2968CC 181Cu. In. V6 GAS DOHC Naturally Aspirated
2008
Ford
Fusion
S Sedan 4-Door 2.3L 140Cu. In. l4 GAS DOHC Naturally Aspirated
2008
Ford
Fusion
SE Sedan 4-Door 2.3L 140Cu. In. l4 GAS DOHC Naturally Aspirated
2008
Ford
Fusion
SE Sedan 4-Door 3.0L 2968CC 181Cu. In. V6 GAS DOHC Naturally Aspirated
2008
Ford
Fusion
SEL Sedan 4-Door 2.3L 140Cu. In. l4 GAS DOHC Naturally Aspirated
2008
Ford
Fusion
SEL Sedan 4-Door 3.0L 2968CC 181Cu. In. V6 GAS DOHC Naturally Aspirated
2008
Lincoln
MKZ
Base Sedan 4-Door 3.5L 3496CC 213Cu. In. V6 GAS DOHC Naturally Aspirated
2008
Mercury
Milan
Base Sedan 4-Door 2.3L 140Cu. In. l4 GAS DOHC Naturally Aspirated
2008
Mercury
Milan
Base Sedan 4-Door 3.0L 2968CC 181Cu. In. V6 GAS DOHC Naturally Aspirated
2008
Mercury
Milan
Premier Sedan 4-Door 2.3L 140Cu. In. l4 GAS DOHC Naturally Aspirated
2008
Mercury
Milan
Premier Sedan 4-Door 3.0L 2968CC 181Cu. In. V6 GAS DOHC Naturally Aspirated
2007
Ford
Fusion
S Sedan 4-Door 2.3L 140Cu. In. l4 GAS DOHC Naturally Aspirated
2007
Ford
Fusion
SE Sedan 4-Door 2.3L 140Cu. In. l4 GAS DOHC Naturally Aspirated
2007
Ford
Fusion
SE Sedan 4-Door 3.0L 2968CC 181Cu. In. V6 GAS DOHC Naturally Aspirated
2007
Ford
Fusion
SEL Sedan 4-Door 2.3L 140Cu. In. l4 GAS DOHC Naturally Aspirated
2007
Ford
Fusion
SEL Sedan 4-Door 3.0L 2968CC 181Cu. In. V6 GAS DOHC Naturally Aspirated
2007
Lincoln
MKZ
Base Sedan 4-Door 3.5L 3496CC 213Cu. In. V6 GAS DOHC Naturally Aspirated
2007
Mercury
Milan
Base Sedan 4-Door 2.3L 140Cu. In. l4 GAS DOHC Naturally Aspirated
2007
Mercury
Milan
Base Sedan 4-Door 3.0L 2968CC 181Cu. In. V6 GAS DOHC Naturally Aspirated
2007
Mercury
Milan
Premier Sedan 4-Door 2.3L 140Cu. In. l4 GAS DOHC Naturally Aspirated
2007
Mercury
Milan
Premier Sedan 4-Door 3.0L 2968CC 181Cu. In. V6 GAS DOHC Naturally Aspirated
2006
Ford
Fusion
S Sedan 4-Door 2.3L 140Cu. In. l4 GAS DOHC Naturally Aspirated
2006
Ford
Fusion
SE Sedan 4-Door 2.3L 140Cu. In. l4 GAS DOHC Naturally Aspirated
2006
Ford
Fusion
SE Sedan 4-Door 3.0L 2968CC 181Cu. In. V6 GAS DOHC Naturally Aspirated
2006
Ford
Fusion
SEL Sedan 4-Door 2.3L 140Cu. In. l4 GAS DOHC Naturally Aspirated
2006
Ford
Fusion
SEL Sedan 4-Door 3.0L 2968CC 181Cu. In. V6 GAS DOHC Naturally Aspirated
2006
Lincoln
Zephyr
Base Sedan 4-Door 3.0L 2968CC 181Cu. In. V6 GAS DOHC Naturally Aspirated
2006
Mercury
Milan
Base Sedan 4-Door 2.3L 140Cu. In. l4 GAS DOHC Naturally Aspirated
2006
Mercury
Milan
Base Sedan 4-Door 3.0L 2968CC 181Cu. In. V6 GAS DOHC Naturally Aspirated
2006
Mercury
Milan
Premier Sedan 4-Door 2.3L 140Cu. In. l4 GAS DOHC Naturally Aspirated
2006
Mercury
Milan
Premier Sedan 4-Door 3.0L 2968CC 181Cu. In. V6 GAS DOHC Naturally Aspirated